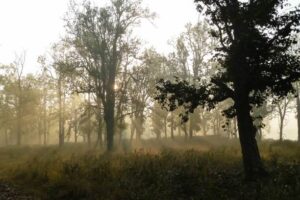 Are you looking forward to a thrilling weekend getaway? There is no better place than Kanha National Park in Madhya
Read More
Top-Rated Customer Testimonials
250+ 5 Star Google Reviews
We often come across a situation where we want to go on a small and quick trip just in order to get a break from our daily schedule. It gives us a chance to replenish ourselves and also, refuel our minds for future hustles. For these kinds of journeys, the perfect place is to get to a getaway destination. These frequent getaways have the least stress involved and according to studies, people who often go on a getaway trip are more energized and happier than those who do it less frequently. These microvacations are more fruitful for a person than a single long trip, in fact, they are the perfect way to utilize your weekend and fight the fear of returning to work again. Another benefit of these microvacations is that they tend to make you active as you have to complete your trip quickly, unlike a lazy beach trip. These vacations fill up your memories basket and you get a lot of sweet memories to remember and have a happy smile on your face. But like everything on this mother earth, these memories are also transient, and thus, to keep your basket filled up, keep going on these getaway trips frequently. So, why in the world are we talking about these getaway trips? Because we are going to discuss one such getaway destination, especially in the list of Central Indian Tour Packages i.e. Khajuraho
Khajuraho is an ancient city known for its magnificent temples (Mandir) and intricate sculptures. The city is located in the Chhatarpur district of Madhya Pradesh and holds spellbinding historical tales and architectural grandeur. As per the historical archives, the Khajuraho temple site had 85 temples during the 12th century spread over 20 square kilometers. Among these, only 25 temples have survived the course of time, spread over six square kilometers.
Best Places To Visit In Kanha
Raneh Fall:
Raneh waterfall is a beautiful tourist attraction situated 21 kilometers from the Khajuraho bus stop. You can see the captivating waterfalls that create a 30-foot-deep canyon. You can often see a rainbow hovering over the falls owing to the beaming sun.
Maharaja Chhatrasal Museum:
The Maharaja Chhatrasal Museum, also referred to as the Dhubela museum, is 62 kilometers away from the Khajuraho group of temples. The family members of Maharaja Chhatrasal constructed this museum in 1955 at the bank of Dhubela lake.
Pandav Fall:
It is one of the well-known tourist attractions close to Khajuraho. Pandav Fall is situated on the route that runs through Khajuraho and Panna, 34 kilometers from the Khajuraho bus stop. The Panna National Park and the falls are quite nearby and these two places are often covered on the same day. Panna Waterfall has a maximum height of 30 meters, and it is derived from the river Ken. According to the legends, the Caves which we have heard about in Mahabharata, are situated at the base of these waterfalls. This place is considered an excellent picnic spot for people residing in nearby locations.
Jain Museum:
The Jain Museum, formerly known as Sahu Shanti Prasad Jain Kala Sangrahalaya, is situated at a distance of one kilometer from the Khajuraho bus station. In the garden of its campus, you can witness the exquisite sculptures of the 24 Jain Tirthankaras. The interior of this museum provides information about the lives of the aforementioned Tirthankars, and it also houses many artifacts related to Jain tradition and culture.
Khajuraho Dance Festival:
Plan a trip to Khajuraho around February when you can also attend the Khajuraho Dance Festival. This grand cultural extravaganza is a stunning blend of art and architecture. One gets to experience a wonderful symphony of mesmerizing classical dance performances being performed by renowned artists coming from every nook and corner of India.
The climate of Khajuraho, located in the central part of India, is tropical wet, and dry. The city experiences three main seasons: summer, monsoon, and winter. Overall, Khajuraho has a hot and dry climate, with high humidity during the monsoon season. The best time to visit Khajuraho is during the winter season when the weather is the most pleasant.
So, we started with discussing the benefits of microvacations to some getaway destinations and along the way, we discussed one such getaway destination which was Bandhavgarh, and put out some information about the pace with an objective to help you out in making a good Bandhavgarh tour package and now here we are at the end of this life. See, it is very simple, it is true that we all are trapped in the hustle to progress and develop but it is also at the same time not wrong to take a break from this timetable and rejuvenate yourself for the further hustle and therefore, we would recommend you to frequently go on these kinds of microvacations because not anybody else but at least you should be happy with the life you lived when you will take a look back on it in your old age. Also, there is a wide range of good resorts & hotels in Bandhavgarh for visitors where tourists can feel the comfort of home

Best Of Hotel
We work closely with only the best hotels and resorts in the industry to ensure that our clients have a comfortable and luxurious stay. Our hotels are carefully selected for their prime location, amenities, and overall quality. Whether you're looking for a romantic getaway, a family vacation, or a business trip, we have the perfect hotel to suit your needs.

World Class Travel
We pride ourselves on providing world-class travel experiences for our clients. From the moment you book your trip with us, our dedicated team of travel experts will take care of every detail. From flights and transportation to activities and excursions, we'll handle it all so you can relax and enjoy your trip.

Best Price Guarantee
We want to ensure that our clients get the best deals on their trips, which is why we offer a best-price guarantee. If you find a lower price for the same trip on any other website, we'll match it and give you an additional discount. This way, you can be sure that you're getting the best price possible when you book with us.
Reaching Bandhavgarh National Park is not so difficult. Umaria (~27 km) is the closest railway station, which is well connected to Jabalpur, Katni, Satna, and other cities. Trains from several major cities like Howrah and Delhi halt here.
Frequently Asked Questions.